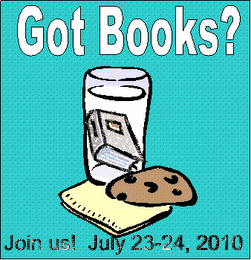 If you're freaking out right now because it's a fantastic contest going on, it's because you don't see the bigger picture here.
I just got home from vacation and found my freezer door in the hot garage open.
It was full of melted stuff. It was drooling.
Now it's empty.
I am sad.
Still, there's this big giveaway. Did you really think I would leave you high and dry without anything interesting to read?
Do you really think I freaked out when I figured out that the BIG EVENT is today and gathered up some of my gently used books and I would offer those? I used the word
gently
. I'm going to go ahead and let you know that these are all quality books. There will be multiple winners because I'm totally making this up right this moment at 1:23 a.m. Fill out the form I'm creating in another window right now and let me know your first two picks.
Here's the official welcome from
Got Books
? When you're finished with my giveaways, go ahead and click on the "Got Books" icon above. You'll see all 111 contests going on and nitty gritty details. Like that it ends in less than 48 hours.
Wow. What a great couple of days this is going to be.
Especially if I can find a great deal on chicken.
Just a disclosure statement - most (half?) are historical fiction. The others are thrown in to make it look interesting.
Does it look interesting?